Discover Alcatraz From Our San Francisco Hotel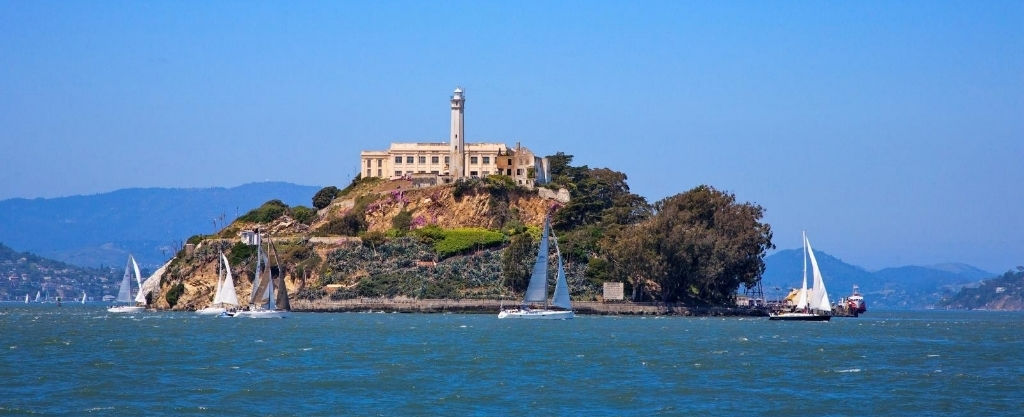 Embark on a trip to Alcatraz Island, the infamous federal penitentiary also known as "The Rock." The West Coast's first lighthouse and United States fort, Alcatraz offers visitors plenty of history, plus beautiful gardens, tide pools, bird colonies and stunning bay views. Located in San Francisco's Fisherman's Wharf, our hotel is placed near the Alcatraz Island ferry, offering visitors a convenient location from which to explore this historic landmark.

Alcatraz Island is now operated by the Golden Gate National Recreation Park Service. Alcatraz visits frequently sells out in advance, as much as a week or more in the summer and on holidays.
Location: Alcatraz Island is located in San Francisco Bay, 1.5 miles (2.4 km) offshore from the city of San Francisco, California
Ferry Location: 0.1 km/0.1 miles from Sheraton Fisherman's Wharf Hotel at Hornblower Alcatraz Landing at Pier 33
Hours: Ferry departures are available about every half hour throughout the day beginning at 9:00 AM - 3:50 PM. Night tours are available on certain days, check the schedule in advance. Alcatraz is open every day except Christmas, Thanksgiving and New Year's day.
Fees: Pricing ranges from $18 - $30 depending upon age. Tickets are made available about 60 days in advance. The ticket price includes the ferry transportation service provided by Alcatraz Cruises, the cellhouse audio tour provided by the Golden Gate National Parks Conservancy, and the Federal Lands Recreation Enhancement Act fee.
Tour Information: Allow at least 2 ½ hours for sailing to the island, taking the Cellhouse audio tour, exploring the rest of the island and returning to the mainland. Photo ID is required. Visitors should be sure to bring along a light jacket or sweater, the weather on the island is unpredictable.
If you need help planning your memorable visit to Alcatraz Island, take advantage of our knowledgeable concierge at (415) 627-6525 or Concierge@Sheratonatthewharf.com.