San Francisco Attractions
Sheraton Fisherman's Wharf is located just one block from the famed Fisherman's Wharf and the adjacent piers. Whether you're looking for delicious seafood and fun travel souvineers, or are looking to take a harbor cruise or taxi, or the boat to Alcatraz - our hotel is convenienly located for all the San Francisco attractions.
In addition to activities in and around Fisherman's Wharf, the hotel is easily accessible via the famed Cable Cars to explore all the San Francisco attractions including the Coit Tower, Chinatown, Union Square and even Sausalito.
The following photos are credit to San Francisco Travel Association: Boudin's Sourdough Museum, San Francisco Maritime National Historical Park, Aquarium of the Bay, Coit Tower, North Beach, Chinatown, Union Square, Golden Gate Park, Sausalito.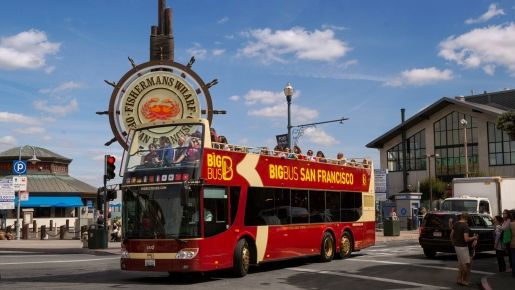 Big Bus Tours San Francisco
Explore San Francisco's famous landmarks on a Big Bus Hop-on Hop-off Sightseeing Tour. Sit back and enjoy the ride as you cruise through the city on an open-top bus and learn about San Francisco's unique history with 20 stops. You have the choice of a personal recorded commentary, available in 10 languages, or an entertaining live commentary. From Fisherman's Wharf to the iconic Golden Gate Bridge, immerse yourself in San Francisco's diverse culture, beautiful parks, stunning architecture and picturesque views.
Hours: Daily from 9:00am - 5:00pm. Every 10-15 minutes in summer months & 20-30 mins in winter months. Full Route is 2.5 hours.
Alcatraz Island
Golden Gate National Recreation Area, 0.1 km/0.1 miles from hotel
Offering a behind-the-scenes view to this infamous federal prison, Alcatraz is one of Golden Gate National Recreation Area's most popular attractions. Step back in time to explore the prison remnants, and learn about the Indian occupation of 1969-1971, military fortifications and the West Coast's first lighthouse. *Tickets to visit Alcatraz are in high demand - book online in advance.
PIER 39
PIER 39, 2 Beach St., 0.4 km/0.3 miles from hotel
With something for everyone in the family to enjoy, PIER 39 is San Francisco's #1 attraction. Best known for playful (and often very vocal) sea lions and street performers, Pier 39 also offers fantastic shopping, dining and family-filled entertainment.
Cable Car Turnaround
Beach St. and Hyde St., 0.2 km/0.1 miles from hotel
As the only moving National Historic Landmark, San Francisco's famed Cable Cars connect Fisherman's Wharf to all the other San Francisco attractions. Via the Cable Cars, explore the city and be whisked away to Union Square, Chinatown, North Beach, Nob Hill and more.
Ghirardelli Square
900 North Point St., 0.5 km/0.3 miles from hotel
Once a factory for the famed chocolate company of the same name, Ghiradelli Square is now home to an eclectic mix of specialty shops, award-winning restaurants and various galleries. Throughout the year live entertainment frequents the square and the views of the bay and Alcatraz are stunning.
Lombard Street
Between Hyde St. and Leavenworth, 1.6 km/1.0 miles from hotel
Created in 1922 out of necessity because the hill's natural grade was too steep for cars and pedestrian's to go up or down, Lombard Street is famous for its tight switchback turns. Showcased in numerous movies and TV shows, Lombard Street can be found on Russian Hill between Hyde and Leavenworth Streets.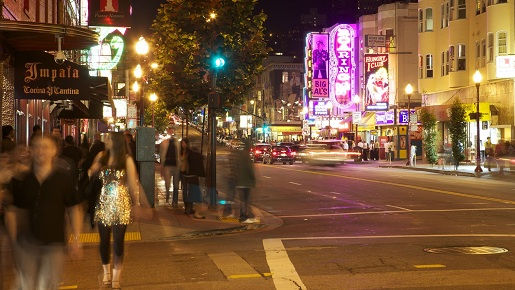 North Beach
0.6 KM/0.4 MILES FROM HOTEL
North Beach is a San Francisco neighborhood adjacent to Chinatown and Fisherman's Wharf. Known to many as the city's "Little Italy", you'll find amazing Italian restaurants throughout.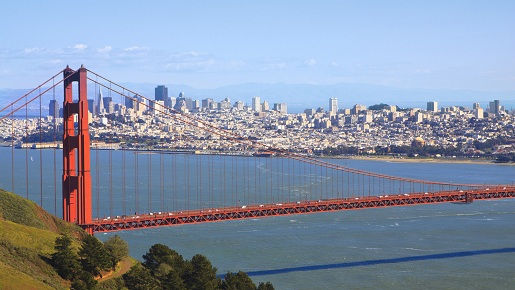 The Golden Gate Bridge
3.2 KM/2.0 MILES FROM HOTEL
The Golden Gate Bridge is the iconic suspension bridge spanning the Golden Gate, the opening of the San Francisco Bay onto the Pacific Ocean. It has become an internationally recognized symbol of San Francisco and California.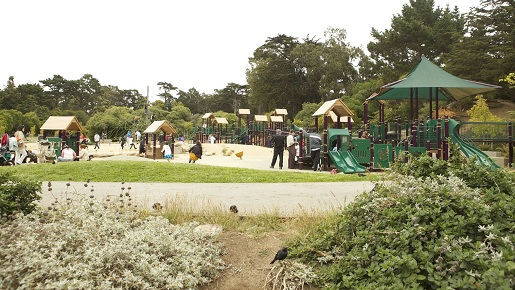 Golden Gate Park
8.0 KM/5.0 MILES FROM HOTEL
Originally developed and planned in the 1890s, Golden Gate Bridge Park continues to impress visitors. Visit the de Young and California Science Museums as well as the Conservancy of Flowers and the Japanese Tea Garden on the park grounds.
San Francisco Maritime Park
900 Beach St, 0.3 km/0.2 miles from hotel
The San Francisco Maritime National Historical Park is located on the edge of San Francisco Bay in the Fisherman's Wharf neighborhood and can be visited year-round. Also known as the San Francisco Maritime Museum, this great park features a fleet of historic vessels, a visitor center, a maritime museum, and a library/research facility. From Hyde Street Pier, take a short stroll across the park to see the exhibits in the Maritime Museum located in the ship-shaped Aquatic Park Bathhouse Building.
Aquarium of the Bay
Beach St., 0.5 km/0.3 miles miles from hotel
The Aquarium is focused on local aquatic animals from the San Francisco Bay and neighboring waters and features nearly 200 different species of sharks, skates, rays, jellies, rock fish, flat fish, eels, sea stars and other aquatic animals. In total, there are over 300 feet of crystal clear tunnels with over 20,000 marine animals.
Chinatown
1.6 km/1.0 miles from hotel
Revered as one of the largest and most diverse Chinatowns in the world, this San Francisco enclave is bordered by Powell Street and the Nob Hill Neighborhood. A first time visitor will want to start their adventure where Grant Avenue and Bush Street meet, with the famous Dragon gate above. Great restaurants, stores and mini malls are located in this area for tourists to enjoy.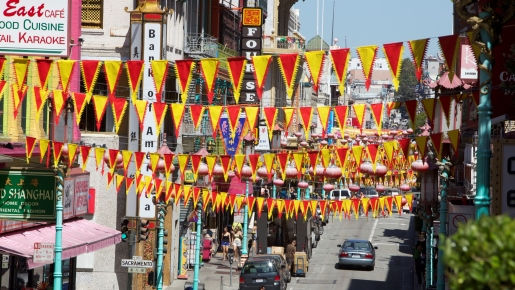 Union Square
2.3 km/1.4 miles from hotel
Bordered by Geary, Powell, Post and Stockton streets, Union Square is known to have some of the best shopping, dining and theatre in the city. For over 100 years travelers have flocked here - enjoying numerous outdoor markets and showcases as well.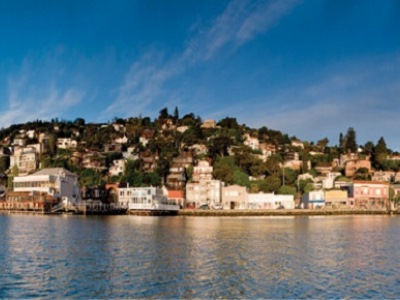 Sausalito
12.9 KM/8.0 MILES FROM HOTEL
Sausalito has been compared to the French Riviera because of its Mediterranean flair and breathtaking views. From San Francisco, guests travel by bus or car across the Golden Gate Bridge to this charming waterfront community. Sausalito is also accessible by car ferry from Fisherman's Wharf or the Ferry Building on San Francisco's Embarcadero.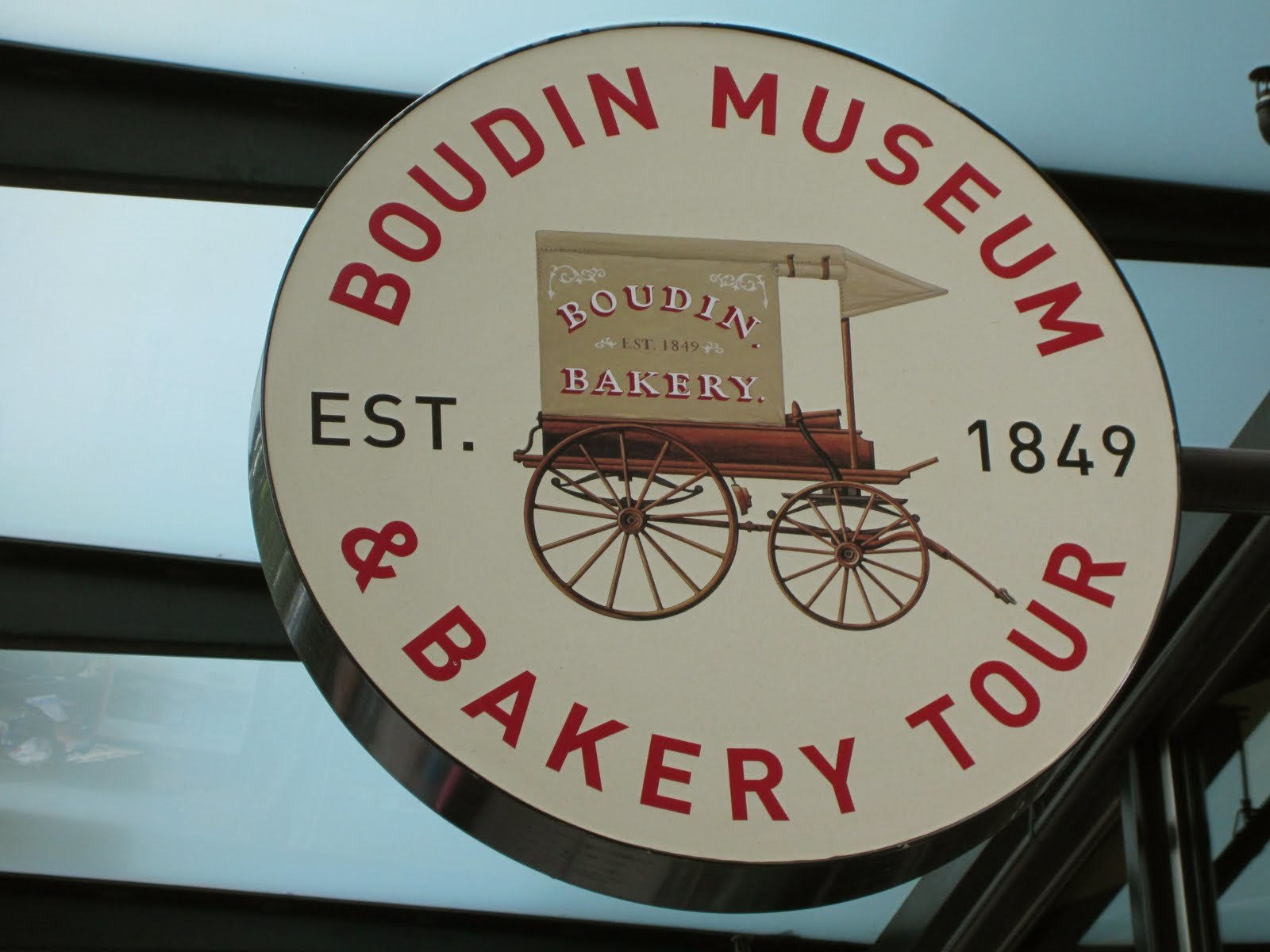 Boudin's Sourdough Museum Tour
160 JEFFERSON ST
0.2 KM/0.1 MILES FROM HOTEL
Looking to eat your way through a museum? Boudin's bakers have been making their famous sourdough bread since 1849 and you're invited to visit this San Francisco attraction for a tour, visit the museum, eat in the restaurant, or shop in the marketplace. Definitely one of the most delicious attractions around!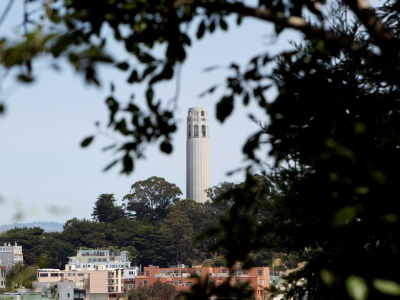 Coit Tower
1 TELEGRAPH HILL BLVD
0.6 KM/0.4 MILES FROM HOTEL
Looking for the best 360' views of the city? Make the hike atop Telegraph Hill and climb to the observation deck inside the Coit Tower and be rewarded with unobstructed views of the Golden Gate Bridge, the Bay Bridge, and the San Francisco Bay in between.
SAN FRANCISCO LOCAL AREA MAP
What's Nearby
Alcatraz Island

Chinatown

Coit Tower

Fisherman's Wharf

Ghirardelli Square

Golden Gate Bridge

Golden Gate Bridge Park

Lombard Street (Crooked Street)

North Beach

Pier 39

Sausalito

Union Square

Aquarium of the Bay

Boudin's Sourdough Museum

San Francisco's Maritime Museum

The Walt Disney Family Museum

The Wax Museum
How To Get Here
Unable to find directions, please try again.